Finding the balance  –  Price and Service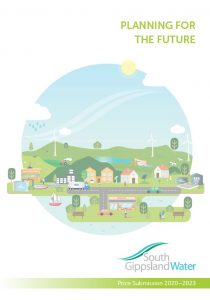 South Gippsland Water has submitted its Price Submission to the Essential Services Commission (ESC). The Price Submission 2020-2023 sets out proposed prices, tariffs, service standards and spending from 1 July 2020 through to 30 June 2023.
The ESC regulates the pricing of water services for consumers within Victoria. The ESC will approve the maximum prices and service levels for South Gippsland Water four three years, until 30 June 2023. Their draft determination is expected in March 2020.
You can download a copy of our submission here (3MB PDF): Pricing Submission_2020-2023
What we've included in our Price Submission
Building on the Corporation's existing plan, South Gippsland Water's submission outlines prices and services for the next three years to 2023. The submission aims to deliver reliable services and ensure sustainable operations of the business. Customer feedback has been consistent, in that maintaining service levels is important and supports investment in renewing aging pipes and pumps in order to keep the number of breaks and leaks to about the same as they are now.
In order to maintain service levels in the long term, South Gippsland Water is proposing capital and operational programs of $97M over the three years. South Gippsland Water services and investment are aligned to five key customer outcomes;
Reliability: Plan for the future, be reliable and minimise unplanned interruptions to services
Water: Provide safe, clean drinking water
Wastewater: Provide a wastewater services that contributes to the liveability of our communities
Environment: Be environmentally sustainable and adapt to a future impacted by climate variability
Customer Integrity: Act with honesty, respect and strive to balance affordability, value for money and fairness
South Gippsland Water progressed programs approved by the ESC in 2018 to deliver on customer outcomes. However, in the interest of customer affordability, the Corporation absorbed the extra costs without increased customer bills. This position is no longer financially sustainable and a moderate increase in tariffs is proposed. South Gippsland Water's price submission provides a balance between price, services and being sustainable into the future.
Essential Services Comission Draft Determination 
The Essential Services Commission (ESC) has released South Gippsland Water's Draft Determination that defines the Corporation's level of service and water prices for the years 2020 – 2023.
The Draft Determination has provided for the level of service, Capital and Operational programs and price structures proposed in the Corporation's 2020 Price Submission.
As part of the pricing review process, the Essential Services Commission has completed a wide ranging analysis of South Gippsland Water's business to ensure prudent and efficient expenditure.
The final determination is due in June 2020, with new prices due to come into effect from 1 July 2020.