Water Plan & Pricing Review
Pricing Review
South Gippsland Water develops a plan that sets out proposed service standards, capital and operating expenditure, and the required prices charged to customers for the delivery of water and waste services.
The current plan  commenced in June 2018 and has a focus on six key customer outcomes developed in consultation with customers and includes;
The provision of safe, clean drinking water
Safe wastewater service that contributes to our communities & environment
Treating all customers/community with honesty & respect
Being environmentally responsible
Planning for future years in partnership with community, business & government
Being reliable and minimising unplanned interruptions to services
Customer Scorecard
South Gippsland Water monitors its performance against the six customer outcomes set out in its plan.  Below is the scorecard with performance against these statements and key performance measures.
Customer Scorecard 2018_2019 PDF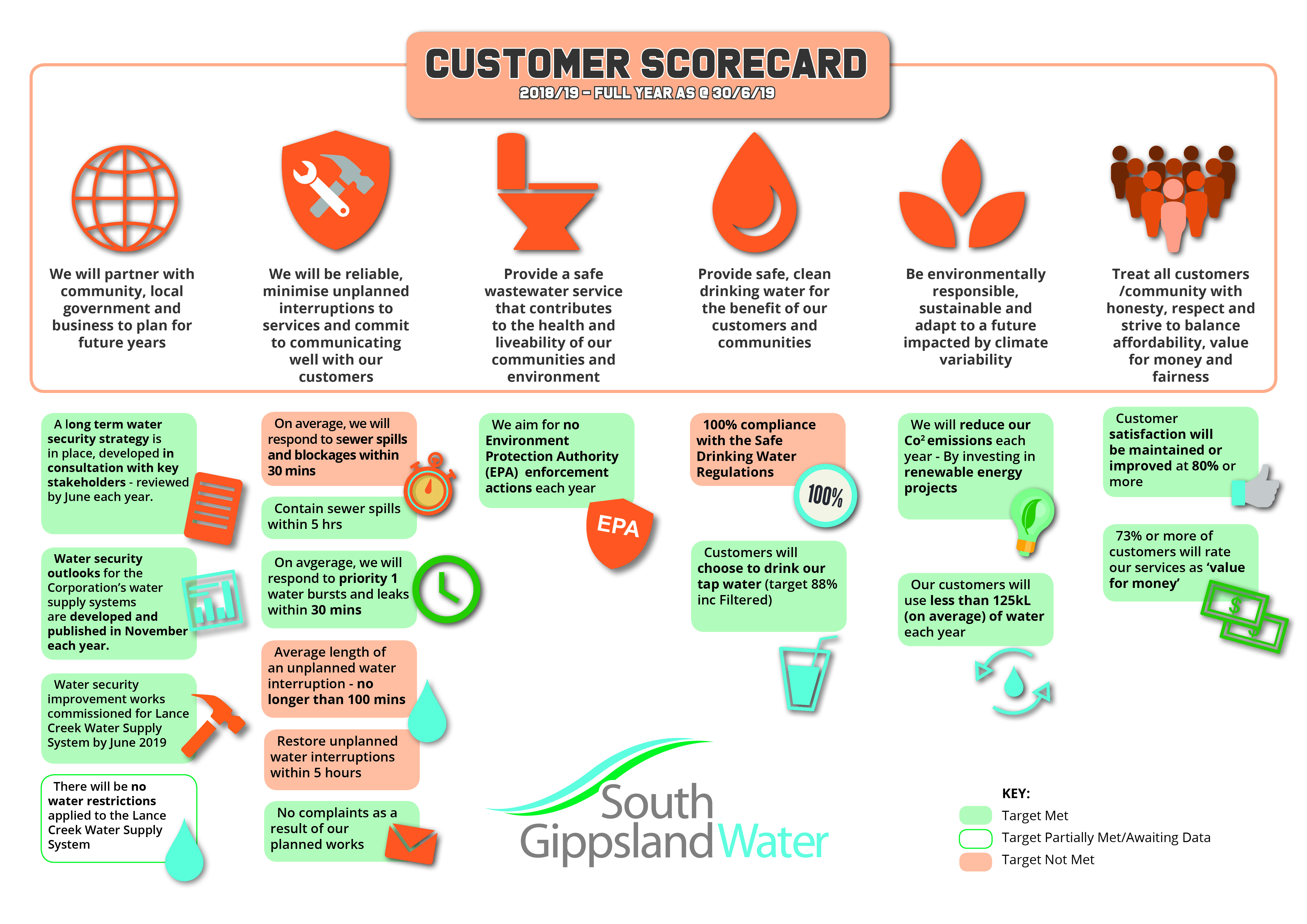 Have Your Say
Customer and community input is integral to the review and submission process, and South Gippsland Water is once again developing a Price Submission to commence in June 2020. The Corporation is continually seeking feedback from individuals, groups, local businesses and industry regarding matters of significance.
Customers are invited to provide feedback  via;
Web:  oursay.org/lets-talk-water/price
Email: sgwater@sgwater.com.au
Phone: 1300 851 636.
Pricing Submission
The Pricing Submission sets out South Gippsland Water's prices, service standards and capital works over the next two years.
South Gippsland Water undertook a long process of planning and consultation with customers to develop the Pricing Submission. It was then submitted to the Essential Services Commission (ESC), the independent economic regulator, for review.  The determination by the Essential Services Commission will see water prices in South Gippsland hold stable with only CPI to be applied for the next two years commencing 1 July 2018.
Water Prices Hold Steady_Final Pricing Determination – Media Release
South Gippsland Water 2018 Price Determination