Price, Services, Future 2023 to 2028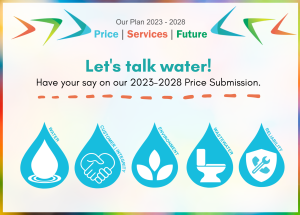 We are currently planning for our future. We are seeking to find the balance between price, our services and the challenges of future growth and climate change.
Thank you to everyone who has already contributed to our 2023-2028 Price Submission. We are now in our last stage of community consultation and would very much appreciate your feedback and comment.
To highlight the key aspects of the Price Submission, we have put together five fact sheets on our Customer Outcomes, and a fact sheet on how we find the balance. We want to know: do you think we hit the mark in striking a balance between price, services and future? Have your say in our 5-minute survey.
If you would like to view the survey in full screen, click here to be redirected.
If you are having trouble viewing the survey, click here.
The survey closes at 11.59pm on Tuesday 16 August, 2022.
You can download all our fact sheets below.
Finding the Balance – Fact Sheet
Safe and Clean Water – Fact Sheet
Wastewater Services – Fact Sheet
Environmental Sustainability – Fact Sheet
We will provide regular updates to you as we gain an understanding of our community's views.
You'll find these on this webpage, or you can check out our social media channels for regular updates.