Need a water delivery? …Ensure your water carter is compliant
Wednesday, January 8th, 2020
The summer months are a busy period for water carters and this summer will be exceptionally busy due to smoke across the South Gippsland region effecting the taste of water collected in some rain water tanks.
South Gippsland Water keeps a close eye on water quality across the reticulated water supply systems. Water supplied by South Gippsland Water to townships via these systems is treated to Safe Drinking Water Standards and monitored on a daily basis.
Household water tanks across the South Gippsland Region are getting topped up by water delivery services. Have you ever thought to check if the delivery service you use is compliant and providing water that is safe to drink?
Property owners that need their tanks filled with water from the reticulated supply are encouraged to check your delivery provider is compliant, registered with the council and accessing water from a local water corporation outlet. Potentially the cheapest water delivery may not be the safest.
All water delivery services providing drinking water are required to be registered with their local council as well as South Gippsland Water. The registration process confirms the delivery service follows a routine to ensure the water they put into household tanks is safe to use for all household purposes – including drinking.
Requirements of a compliant service include;
Current registration with council of a Water Transport Vehicle
Current registration with South Gippsland Water to access drinking water from Standpipes
Delivery in a well maintained, clean and hygienic vehicle
Maintaining a log book that documents where drinking water is sourced
Using a registered water delivery provider ensures the water you receive has been collected from a drinking (potable) water system and delivered in a clean vehicle, and that the drinking water is not allowed to become contaminated with other substances, that may not be fit for human consumption.
Photo: Local water carter filling up at a registered standpipe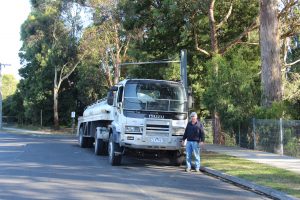 – END –
Download