Customer Support Programs
Concessions
Water and Sewerage Concessions are available for eligible concession card holders (owners and tenants), on their principal place of residence.
Eligible Cards
Pension Concession Card (PCC) issued by Centrelink or Department of Veterans Affairs (DVA)
Department of Veteran Affairs Gold Repatriation Health Card
Health Care Card (excluding "Commonwealth Seniors Health Card")

Ineligible Cards
The following cards are ineligible for concession on water and sewerage service charges including:
Commonwealth Seniors Health Card
Victorian Seniors Card
DVA Gold Card – Dependant
DVA White Card – Specific
Ineligible Health Card Cards are: "CD" (Child Disability) and "FO" (Foster Care)

Eligibility Criteria
The property must be your principal place of residence.
You must be responsible for payment of the Service Account.
The name and address on the Service Account needs to match the name and address on your Concession Card.
If the concession is not shown on the front of your account, or to apply for a concession for the first time, please contact South Gippsland Water's Customer Service Department on (03) 5682 0444 or 1300 851 636.
Department of Families, Fairness & Housing
Centrelink/Centrepay
Centrepay
Centrepay is a voluntary bill-paying service which is free for Centrelink customers.  Use Centrepay to arrange regular deductions from your Centrelink payment.
You can start or change a deduction at any time.  The quickest way to do  to establish Centrepay payments, is through your Centrelink account online.    Go to humanservices.gov.au/Centrepay for more information.
Or you can contact us to assist you with setting this up.
Things to know
You can set up and manage your Centrepay deduction with Centrelink or with us
You can use Centrepay to pay your existing charges, and set it up for future bills
The minimum deduction is $10 a fortnight
You can change, suspend or cancel your payment arrangements at any time
There is no cost to use Centrepay
More Information
Payment Plans & Difficulty Paying Your Account
South Gippsland Water recognise that some customers may have difficulty paying their water or sewerage account.   A phone call to our Customer Service Team is all it takes to let them know you are experiencing difficulties and let them assist you in keeping connected to these vital services.
Payment Plan Options
Having a payment plan in place is an effective way to ease the burden of accounts arriving. South Gippsland Water offer a range of options for customers to set up a payment plan and assist in budgeting for water and sewerage accounts.  To set up a payment plan call 1300 851 636.
Payment assistance can be provided through:
Regular repayment plans
Concession Card holder discounts
An individual payment plan
A Centrepay payment plan
Payment extension
A range of payment options
In cases of hardship, additional assistance can be provided to eligible customers in the form of a referral to free independent financial counsellors or access to a government funded relief grant.
Having difficulty paying your account?
A copy of the Corporations Customer Support Policy is available below.
Utilities Relief Grant (URGS)
Customers experiencing difficulty in paying their account may be eligible for a Utility Relief Grant from the Department of Human Services.
The Department of Human Services provides assistance for domestic customers who are unable to pay their utilities bills due to a temporary financial crisis.
To be eligible you must hold one of the following concession cards:
Pensioner Concession Card
Health Care Card
You may also be eligible if your household income is lower than the cap set by the Department of Human Services.
You must also meet one or more of the following criteria:
a significant increase in usage
recent decrease in income, for example loss of employment
high unexpected expenses on essential items
the cost of your water bill is more than 10% of your household income.
the cost of shelter is more than 30% of your household income.
Please contact us for further information or to apply for a Utility Relief Grant.
Applications can be made once every two years.
Family Violence Support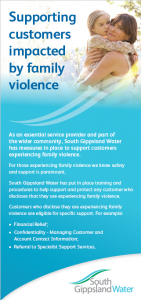 As an essential service provider and part of the wider community, South Gippsland Water has measures in place to support customers experiencing family violence.
For those experiencing family violence we know safety and support is paramount.
South Gippsland Water has put in place training and procedures to help support and protect any customer who discloses that they are experiencing family violence.
Customers who disclose they are experiencing family violence are eligible for specific support. For example:
Financial Relief;
Confidentiality – Managing Customer and Account Contact Information;
Referral to Specialist Support Services.
Financial Relief
Customers experiencing family violence automatically qualify for access to all financial relief (hardship) support available from South Gippsland Water. This includes jointly held accounts where one account holder has made South Gippsland Water aware of family violence impacts. Depending on individual circumstances these may be:
Instalment Plan;
Extension of time;
Utility Relief Grant;
Suspension of part or full debt;
Suspension of interest accrual;
Partial or full debt write off
Protection from further debt recovery action in relation to the water and sewerage account;
Protection from water restriction notifications and actions.
Confidentiality
South Gippsland Water has put in place procedures to manage customer accounts and contact information. As a result, the Customer Support Team can tailor account mailings and contact preferences to ensure privacy is protected. The Customer Support Team can set up mailing of duplicate accounts or create additional accounts in the event a customer relocates.
If a customer discloses a family violence situation, the Customer Support Team will work with the customer to establish their contact preferences for how and when South Gippsland Water will contact them.
If you wish to disclose to South Gippsland Water that you are impacted by family violence, South Gippsland Water's Customer Support Team are trained to assist with a range of needs that may arise, whilst maintaining dignity and respect for each individual.
Call 1300 851 636 and ask to speak to the Customer Support Team or email: customersupport@sgwater.com.au
Family Violence Support Agencies