South Gippsland Water – The Service Provider
South Gippsland is located about 2 hours drive from Melbourne and is a popular tourist destination, well known for its coastal resorts, such as Inverloch, Cape Paterson, Venus Bay, Sandy Point and Port Albert. The region has two internationally recognised National Parks: Wilson's Promontory and Tarra Bulga, north east of Yarram.
Dairy farming is the major industry in the region together with a range of other agricultural activities including beef, lamb, wine, cheese and vegetable production.
Based on our vision, mission, core values and functions, South Gippsland Water is a proactive service provider. We aim to contribute to economic development and provide environmentally sustainable water and wastewater services, in a way that benefits our customers and the wider community of the South Gippsland Region.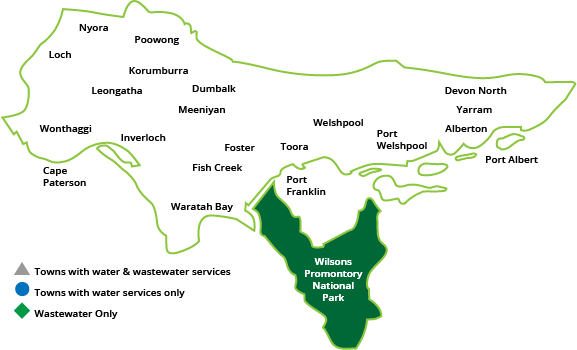 Water
21,570 water assessments [accounts] over 21 rural centres
13 reservoirs and 18 service storages
4,590 million litres [ML] annual volume of metered water supplied to customers
Water catchments with a total area of 1,234 square kilometres
Moving from 10 separate water supply systems to 8*
Moving from 10 water treatment plants to 8*
772 km of water mains
18 water pump stations
*Due to the commissioning of the Lance Creek connection.
Waste Water
19,339 wastewater assessments over 17 rural centres
4,095 ML of wastewater collected
10 conventional wastewater systems
1 vacuum wastewater system
2 pressure sewer systems
11 wastewater treatment plants
500 km of wastewater mains
67 wastewater pump stations
Water & Wastewater Service Localities
Centre
Population Served
(Permanent)

Water
Sewerage
Customers
Billed
Customers Billed
Supplied from
Port Franklin
130 (estimate)
106
Agnes River
Not Serviced
Port Welshpool
184
276
Agnes River
262
Toora/ Agnes, Bennison
462
517
Agnes River
286
Welshpool, Hedley
457
206
Agnes River
120
Fish Creek
826
207
Battery Creek
Not Serviced
Korumburra
3,506
2,228
Coalition Creek
1,918
Foster
1,138
871
Deep Creek / Foster Dam
780
Inverloch, Wattle Bank, Lance Creek
4,975
4,557
Lance Creek
4,509
Cape Paterson
771
1,147
Lance Creek
1,128
Wonthaggi, South Dudley, Glen Alvie, Kongwak, Lance Creek
7,406
4,503
Lance Creek
4,269
Loch
196 (estimate)
146
Little Bass
109
Nyora
733
354
Little Bass
185
Poowong
330
205
Little Bass
146
Koonwarra
400
81
Ruby Creek
Not Serviced
Leongatha, Kardella, Leongatha South, Ruby
5,068
3,107
Ruby Creek
2,923
Alberton
265
146
Tarra River
99
Devon North, Tarra Valley
498
125
Tarra River
Not Serviced
Port Albert
251
398
Tarra River
329
Yarram
1,782
1,193
Tarra River
1,079
Dumbalk
430
103
Tarwin River – East  Branch
Not Serviced
Meeniyan
472
272
Tarwin River – West  Branch
238
Waratah Bay
216
Not Serviced
N/A
114
Notes:
Population Served based on ABS 2011 Census with local government growth factor.
Water and Sewerage Assessments = Number of Rated Properties at January 2016.
The ABS method of calculation of population has changed from Collection District to State Suburb and may not always reflect the exact sewer/water district
Purpose:
We provide sustainable water services that are essential to the prosperity and wellbeing of our communities and natural environments
Vision:
Our customers value the services and outstanding experiences proudly delivered by our capable and committed teams
To fulfil our 2023 Vision
Our Achievement Culture and Productive Practices deliver Outstanding Customer Experiences and Valued Services, that contribute to Thriving Communities and a Healthy Environment.
Outstanding customer experience:
Our customers say we are fair and reasonable, professional and friendly, and easy to deal with.
Our customers say we provide consistent, reliable, high quality services
Delivering valued services:
We make sound decisions that benefit the region
Our business and infrastructure planning ensures service reliability and sustainability
We work collaboratively with partners and stakeholders
Thriving communities:
We contribute to prosperous and healthy communities
We provide effective support programs for our customers
We listen to and respond effectively to community concerns about our services and activities
Healthy environment:
We progressively reduce our environmental impact
We effectively plan and adapt for climate variability
We contribute towards improving the region's waterways, coastal habitat, and the land we manage
Achievement culture:
We invest in developing people to achieve their potential
We foster inclusion, trust and constructive behaviours
Our workplace practices empower achievement
Our safety culture ensures we do not compromise on safety and wellbeing
Productive practices:
We increase effectiveness by leveraging technology and streamlining processes
We enable innovation and strive to find new ways to improve our business
We invest in business infrastructure and support services that enable performance
Engaging With Our Community 
South Gippsland Water is committed to maintaining effective connections with the community and key stakeholders as a primary consideration in delivering water and waste water services.
Active and effective engagement provides an opportunity to understand our stakeholder's key values and to assess their needs, expectations and priorities.
A clear understanding of factors such as Stakeholder preferences, the external environment and changing policy framework is required when developing strategies for future service provision.
South Gippsland Water's Stakeholder Engagement Strategy underpins decision-making processes so they reflect the interests and concerns of potentially affected people and entities. Engagement programs are focused on individual programs and utilise the IAP2 framework, and core values outlined below.
Public Participation:
is based on the belief that those who are affected by a decision have a right to be involved in the decision-making process.
includes the promise that the public's contribution will influence the decision.
promotes sustainable decisions by recognising and communicating the needs and interests of all participants, including decision makers.
seeks out and facilitates the involvement of those potentially affected by or interested in a decision.
seeks input from participants in designing how they participate.
provides participants with the information they need to participate in a meaningful way.
communicates to participants how their input affected the decision.
Engagement is undertaken to ensure that South Gippsland Water services reflect the needs and expectations of customers and the community with respect to;
Key Priorities identified in the Water Plan 2013 – 2018
Key Priorities to be identified in the Price Submission 2018 – 2023
Corporate Plan Objectives
Corporation key projects
Key priorities identified by staff
Victorian Government priorities, commitments and public policies for the delivery of water and waste water services.