Renewels & Replacement Projects
Up-sizing Wonthaggi's Sewer Pipes – Pipe Bursting
Commencing in February 2020, South Gippsland Water will up-size 1,322 meters of old sewer pipe and replace old and dangerous sewer manholes in three separate areas of Wonthaggi.
Recent planning and modelling work by South Gippsland Water has identified and prioritised pipes that need to be upsized to cater for Wonthaggi's development and population growth. In recent years, Wonthaggi has been one of South Gippsland Water's fastest growing towns, at 4% each year. Without these upgrades to capacity, Wonthaggi's sewer system will risk sewer spills during wet weather and storm events as well as experiencing compliance issues with respect to Environment Protection Authority (EPA) standards.
Over the next 10 months, South Gippsland Water will replace sewer pipes in 3 locations:
McKenzie Street (easement adjacent to the Wonthaggi Secondary College grounds) – 154 meters.
Graham Street in the vicinity of and within the grounds of the Wonthaggi Park Lane Holiday Park – 759 meters.
Murray Street (Between Bilson Street and Moyle Lane) – 409 meters.
The replacement program will utilise a trenchless technology called 'pipe bursting'. Pipe bursting means that the old sewer pipes can be left in place. A larger diameter pipe bursting head is forced through the existing pipe (using a pneumatic hammer action), splitting it apart, whilst pulling the new section of pipe in place behind it.
This method of construction has some significant advantages;
Deep trenches are not required the entire length of the sewer, instead smaller excavations are made at each manhole. This means that roads and driveway access can be maintained for most properties.
The new pipe is located in the same place as old pipe, this is particularly useful in congested areas below ground with water, communications, and energy services to consider.
Limited service disruptions will occur, with by-pass pumping of sewer flows, for the duration of works in each area.
The Corporation is committed to reliable services and planning for a future of healthy and thriving local communities. These works, valued at over $1 million, are an initial investment into the reliability of Wonthaggi's sewer system. Over the next three years some $9 million dollars of investment is planned for Wonthaggi's sewerage system and treatment facilities to ensure they meet standards for reliability, provide for economic growth and protecting the environment.
South Gippsland Water has recently contracted Harris Civil Pty Ltd to conduct these works. This contractor specialises in this type of pipe bursting works. South Gippsland Water will oversee the project and any customers or community who would like to know more or have concerns regarding the works, are encouraged to contact the Project Representative Chris Edwards on 1300 851 636.
Frequently Asked Questios – Wonthaggi Sewer Augmentation 
McKenzie Street Community Update 1
Media Release Wonthaggi Sewer Upgrades Feb 2020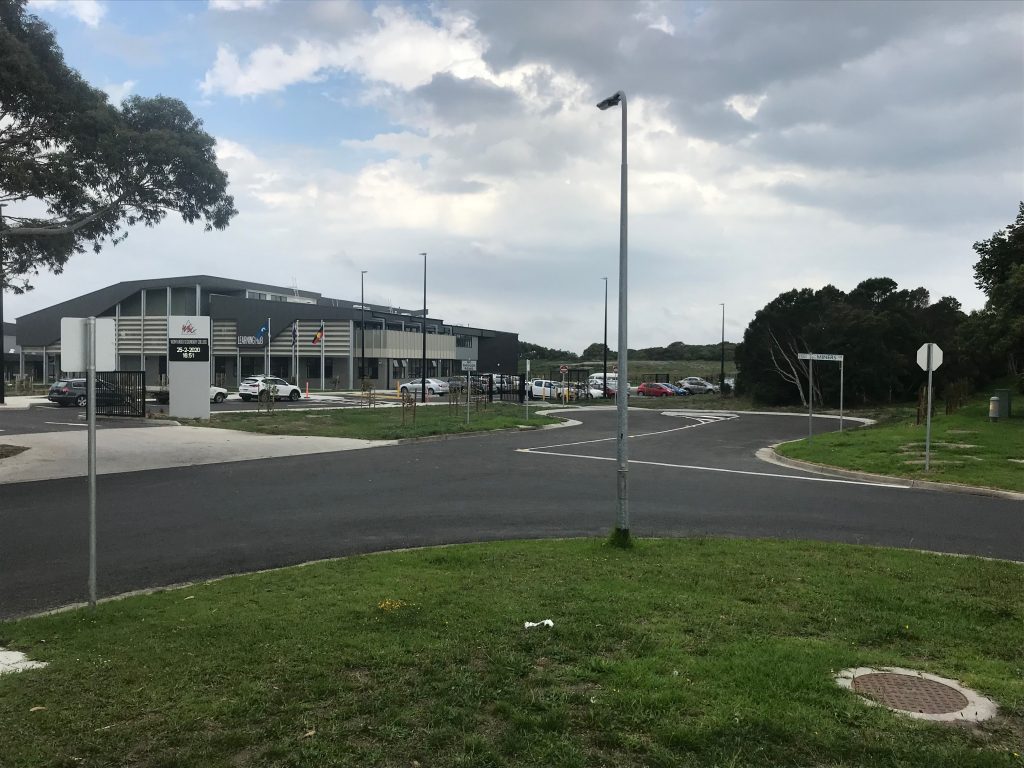 Pipe Bursting – Inverloch
In early 2014 South Gippsland Water embarked on an ambitious project to increase the size of a sewer main along Ramsey Boulevard and the Inverloch foreshore. The sewer main to be upgraded was constructed around 1972 and whilst still in good condition, the growth of the Inverloch Township meant that greater sewer capacity was needed.
Pipe bursting is an innovative trenchless technology, which allows the simultaneous removal and replacement of pipeline without the need to excavate the full length of the pipe. A large pipe bursting head is attached to a pneumatic ram and winch system. The ram and winch draws the pipe bursting head through the original pipe which cracks it open and pulls the new, larger diameter pipe behind it. This allows the new pipe to be laid in the same place and along the same gradient with little above ground disturbance. This technology was ideal for the environmentally sensitive Inverloch foreshore area.
Contractors conducting the pipe bursting work, replaced a section of 240m along Ramsey Boulevard. This work saw the sewer main nearly double in size from the existing 375mm earthenware pipe to the new 560mm Polyethylene (PE) pipe. Contractors commented that it was one of the largest diameter burst and upgrades they had ever undertaken.
The new larger diameter pipeline is now fully installed and the sewer once again operational allowing for further growth and development of the town.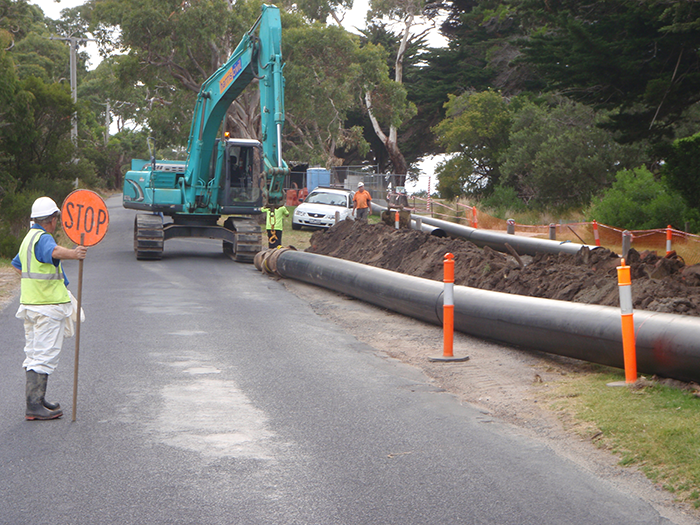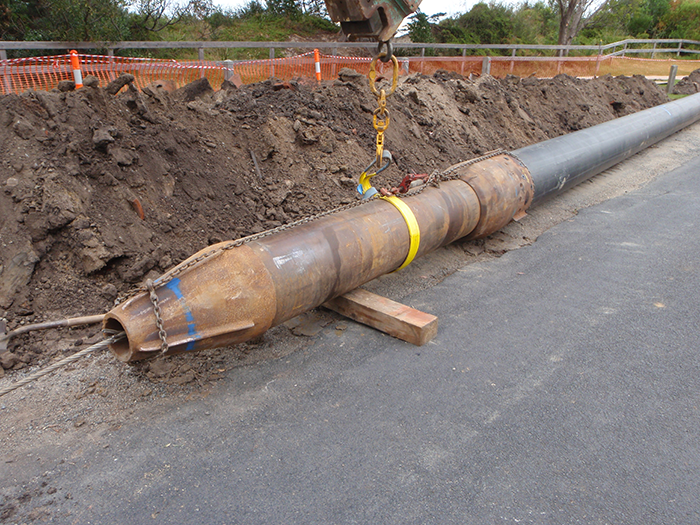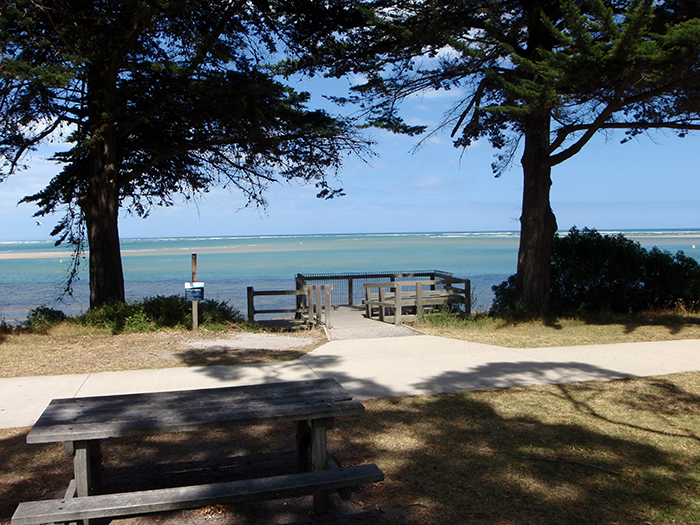 Smoke Testing of Sewer Systems
"Where there's smoke, there's sewer infiltration"
South Gippsland Water has over recent years smoke tested a number of sewerage systems including Yarram, Foster, Wonthaggi and Korumburra.
Smoke testing is an effective way to determine sewerage in-flow and infiltration points, whether it is from groundwater, storm water, or illegal connections to South Gippsland Water's sewerage system.
How smoke testing works
Smoke is introduced into the sewer via a vapour generator. The smoke used is medical grade baby oil that has been atomised to form a dense, yet environmentally friendly mist. This mist will follow the path of the leak to the ground surface or above ground outlet, revealing the source of the infiltration, be it illegal connection or broken pipe. Illegal connections are those where storm water run-off from buildings and walkways is funnelled into the sewer system. When it rains, this water ends up in the sewerage system and eventually at a wastewater treatment plant, where it costs the community in additional pumping and greater volumes of effluent being treated.
Why smoke testing is important
Many thousands of dollars are spent by South Gippsland Water each year in both pumping and then treating groundwater/storm water which ends up at our sewerage treatment facilities. As part of the Corporations on-going sewer rehabilitation program, smoke testing is a cost effective way to identify infiltration and illegal connections.
Smoke testing is an integral part of our on-going sewer maintenance and rehabilitation program. It is a cost effective way to identify infiltration locations and illegal connections into our sewerage system. Once testing is complete it allows the corporation to rectify faults both on private and public lands, ensuring sewerage systems operate at their optimal efficiency.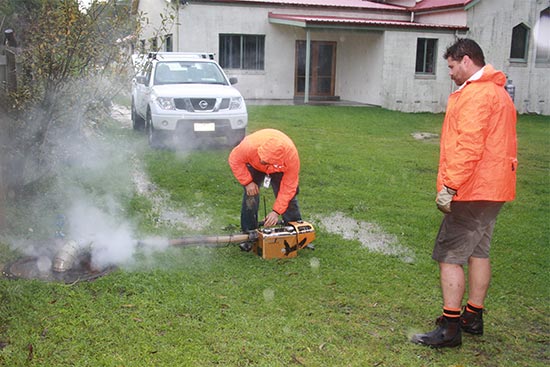 A vapour generator connected to a sewer manhole, pumps the smokey looking vapour into the sewer.
High-tech Sewer Relining
South Gippsland Water operates a program of sewer relining for deteriorating and ageing sewer infrastructure. The Corporation has identified through close circuit TV (CCTV) monitoring of the sewer systems, infiltration hot-spots due to broken pipes. These hot-spots allow ground water and tree root infiltration of the sewer. Relining is cost effective, as pipe work can be repaired without having to dig up large trenches and replace pipes, which causes a great amount of disturbance to established properties.
Using specialised contractors, South Gippsland Water is able to install new PVC liners into the existing reticulation pipe work system. For example in Port Welshpool some sections of the sewer had large volumes of saline groundwater infiltration due to the high water table and proximity to the ocean. As a result specialist sewer relining contractors were called in to reline the sewer.
How the process works
A long continuous section of PVC pipe is made to length, then the sewer pipe in question is cleaned (jetted with high pressure water) and inspected with a CCTV camera which determines the condition and extent of infiltration. Once this process is completed the next stage is to prepare the liner for installation. The liner is then heated using steam, making it pliable. Once the liner is hot and flexible it is inserted into the existing sewer pipe. Once installed it is pressurised with hot steam, pushing it out against the wall of the existing pipe. This pressure is maintained for approximately 30 minutes. After this time pressure is reduced slowly, allowing the PVC liner to cool. Once cooled the plastic returns to a rigid pipe and fully seals the sewer. A small robotic cutter is sent into to cut out any junctions where homes and businesses connect to the sewer pipeline. As a continuous piece of PVC liner is used in the process, there are no joins which may break in future, meaning that the expected lifespan of the repaired sewer is doubled.
See below a before and after photograph from a recent sewer relining project at Port Welshpool.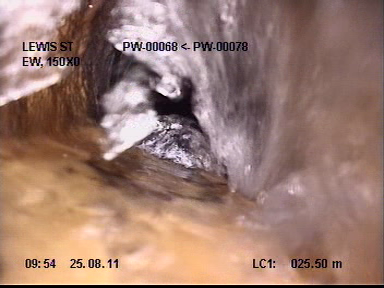 Before: Approximately 35 litres per minute of groundwater entering the sewer through a break in the pipe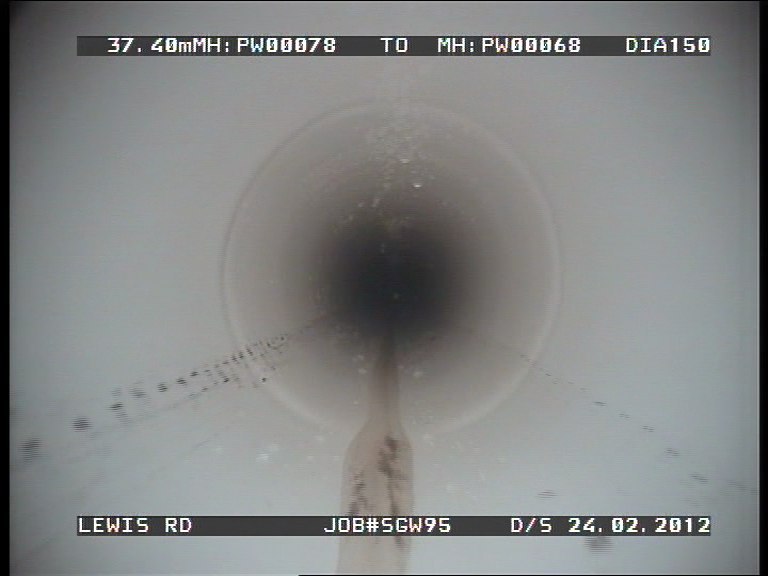 After: A fully sealed sewer pipe
South Gippsland Water has a program of re-lining sewers in order to minimise blockages, sewer repair costs and storm water infiltration. Infiltration water (additional water to normal sewerage) that enters the sewer reticulation system eventually ends up at a wastewater treatment facility increasing treatment costs and impacting on plant efficiency. These costs can be counted in terms of pump station electricity costs (continuous pumping of large amount of water) and the costs of treating this water, which is transported to a wastewater treatment facility unnecessarily.
These projects fall under the Corporations maintenance and repair programs which at a minimum cost, aim to ensure that our systems remain in good, efficient working order.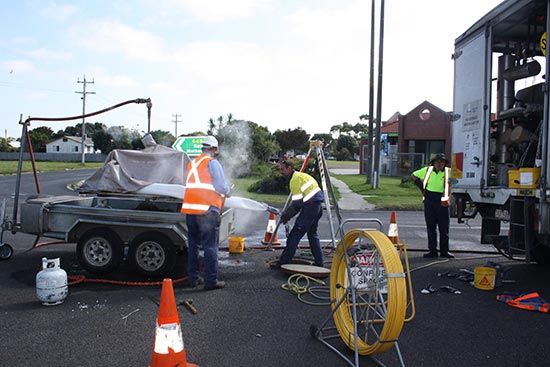 Contractors at work installing the PVC liner at Port Welshpool