Education – National Water Week
National Water Week 2021
Explore Your Backyard
Monday 18 – Sunday 24 October 2021
Calling all schools, kinders and community members. We want to invite you to National Water Week 2021, to join us in this year's online learning festival as we explore the theme of: Explore your Backyard!
Each day of National Water Week we will be exploring a different theme, all related to your backyard, local waterways and the environment.
Our online festival officially starts on Monday 18 October, 2021 and will finish on Sunday 24 October, 2021. ​
Don't miss our special guest Costa the Garden Gnome who will be launching the festival on Sunday 17 October at 4PM – join the event by pressing 'going' here.
National Water week will be packed with informative presentations, on-demand lessons and videos, tours and activities. There will also be water-themed story time, experiments and mindfulness videos. You won't want to miss this – whether your students are in the classroom or remote learning, get ready to explore! Click here to join the fun!
Can't make it that week? Our online learning festival will be available for on demand catch up!
Don't miss out on any of the fun, email media@sgwater.com.au to stay up to date or if you have any questions!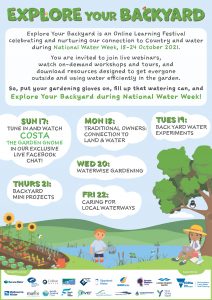 2021 Photo Competition – How do you save water in your garden? 
Capture your backyard this National Water Week in our photo competition!
You're invited to send us a photo of how you save and use water in your backyard/garden for the chance to win a $100 gift voucher. The photo competition is open for everyone to enter in one of these three categories:
Primary School-aged – Kids Gift Card (Coles Group & Myer)
Secondary School-aged – Kids Gift Card (Coles Group & Myer)
Community – Bunnings Gift Card
Entries close on Monday 18 October at 5 pm and winners will be announced on Friday 22 October, during National Water Week!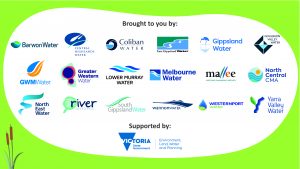 Tours & Presentations
Please note: Due to current COVID-19 restrictions, tours and in person presentations are currently on hold. 
For schools in South Gippsland Water's service region, the Corporation offers FREE tours to their local Reservoirs, Water or Wastewater Treatment Plant and classroom incursions. South Gippsland Water will also provide a representative to present at your community group meeting.
Contact the Communicaiton Team for further questions on our education programs, media@sgwater.com.au