108 Year Old Pipe to be Replaced
Monday, August 12th, 2019
GRAHAM STREET WONTHAGGI
South Gippsland Water will shortly begin works to replace a section of the water main that runs along Graham Street in Wonthaggi.
The works will involve replacing a 530 metre long section of the water main the length of Wonthaggi's main shopping strip, from the roundabout at Graham and McKenzie Streets to the roundabout at Graham and Billson Streets.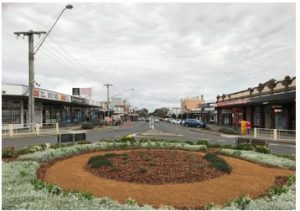 This work has been brought forward following the high number of bursts and leaks which have been experienced along Graham Street this past summer. The section of water main to be replaced is some 108 years old, originally installed in 1911. Over the most recent summer period this pipe has had a significant number bursts and leak incidents that has caused disruption to the businesses that operate in the area. The renewal works will see the existing 150mm diameter cast iron pipe replaced with 180mm diameter polyethylene pipe.
Commencing late August 2019, South Gippsland Water anticipates that much of the works will be completed during the night, to limit disruption to Wonthaggi's main shopping and business district. The majority of works will be predominantly within the car parking bays along the south side of Graham Street. South Gippsland Water will repair and re-instate the roadway and footpaths affected during construction. These works are scheduled to be completed by late November.
Managing Director Philippe du Plessis said that, "the Corporation has been monitoring this section of pipe over recent years and following the performance of this pipe over the past summer has identified it as a key priority for replacement. This project marks a significant investment into the Wonthaggi water supply network and the Corporation's commitment to deliver safe reliable water supplies".
Property owners and businesses in the immediate vicinity will be consulted and kept up to date through-out construction and will be informed of any planned service disruption or impacts to their properties.
Any customers who have questions or concerns regarding their water supply can contact South Gippsland Water's friendly Customer Service Team on 1300 851 636.