Monday, May 13th, 2019
Fencing and scaffolding is being erected around Foster's old maternal health building in Pioneer Street in preparation for its dismantling during May/June.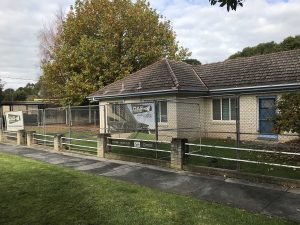 Opened in 1959 by the then shire council as a purpose-built maternal health centre, the facility has been more recently used by South Gippsland Water as office space.
South Gippsland Water Managing Director, Philippe du Plessis said, "Over the years, South Gippsland Water's workforce has grown and the need for additional office space has always been a challenge. The opportunity to make use of the building next door was timely, but as time progressed it became obvious that the building would have a use-by date in terms of structural soundness and safety."
Similar to the old South Gippsland Shire op shop building between South Gippsland Water and the secondary college, the old maternal health building (aptly known as white-ant house to South Gippsland Water staff) is in need of demolition.
"As much as the building has a special place in the history of many born and raised in Foster, there are unresolvable issues relating to its structure, usability and our occupational health and safety responsibilities to staff," explained Mr du Plessis. "The cost of renovation and refurbishment has been thoroughly investigated and determined to be prohibitive."
Staff who have occupied the building for many years are now accommodated in either the main office building or the old Kinder building which South Gippsland Water was able to purchase and upgrade when it became available.
Once the old maternal health building has been safely demolished, the site will be used for additional staff parking to alleviate the demand for street parking along Pioneer Street and near the childcare centre.
Local residents and those who travel along Pioneer Street are asked to take particular care in the vicinity of the work area.