New Water Flows For Korumburra
Sunday, November 18th, 2018
On Tuesday 20 November, South Gippsland Water are due to turn on the new water supply from the Lance Creek Water Connection pipeline. South Gippsland Water Managing Director Philippe du Plessis said "Whilst the water supply will switch over and the new pipeline activated on Tuesday, it will take some days for all areas of the water system in Korumburra to receive the new water".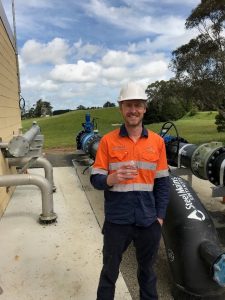 "By the end of the week, Korumburra customers will be receiving water that is chloraminated and fluoridated. Due to the recent algae occurrence at Lance Creek Reservoir, water is currently being sourced from the Melbourne Supply System (Cardinia Reservoir, and is the same water customers in the South Eastern suburbs of Melbourne receive).
It will then be transported through 21km of pipeline to the Korumburra treated water storage tanks prior to being delivered to customers."
A chloraminated and fluoridated water supply meets world-class standards and Department of Health regulations. This treatment process is new to Korumburra and customers may initially notice a slight change in the taste and smell of their drinking water.
Aquarium owners should be aware that tap water will need additional conditioning to make it safe for use in fish tanks.
The Lance Creek Water Connection office at 2 Western Court, Korumburra will be open this Friday 23 November 2018 between 10am and 3pm for customers to pop by and discuss any questions or concerns they may have regarding the new water supply or treatment processes. Customers are also welcome to call the South Gippsland Water Customer Service Team on 1300 851 636 with any enquiries.