Poowong, Loch & Nyora Sewerage Scheme: Construction Progresses Quickly
Monday, August 11th, 2014
Construction of the Poowong, Loch and Nyora Sewerage Scheme is progressing quickly with the Nyora reticulation network almost complete. Drilling crews installing pressure sewer reticulation pipework for South East and South Gippsland Water have made short work in Nyora and last week started drilling in Poowong and Loch. Crews are currently averaging approximately 800 metres of pipe installation a day.
This week construction will commence on the transfer main connecting Nyora to South East Water's Lang Lang Water Recycling Plant.
Customers and residents wishing to discuss the scheme can contact South Gippsland Water on 1300 851 636.
Image: Drilling crews installing pressure sewer reticulation pipe in Nyora using a directional drilling machine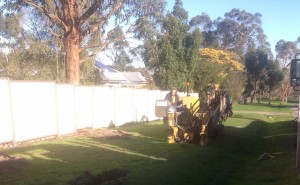 Download