Price, Services, Future – have your say
Thursday, March 3rd, 2022
Every five years, South Gippsland Water submits a Pricing Submission to the Essential Services Commission (ESC), the economic regulator of the Victorian Water Industry. The submission sets out our understanding of what customers' value, the services we will deliver to achieve customer outcomes and the prices that we propose to charge.
South Gippsland Water is currently preparing its next submission to the Essential Services Commission and Managing Director, Philippe du Plessis, encourages everyone across our communities to get involved and provide feedback.
"This is all about us working together to find a balance between the prices you pay, the reliability of services and South Gippsland Water being a sustainable organisation," he said.
"Please take this opportunity to tell us what you think about current services and your expectations in terms of our future investment in the region's infrastructure. It's critical that we find the right balance to best support our communities and we need your help to do that."
The Pricing Submission applies for the period 2023 to 2028.
To have your say, go to our website www.sgwater.com.au and fill in a customer survey or attend a community forum.
For any questions email media@sgwater.com.au or call our friendly customer service team on 1300 851 636.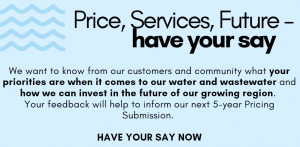 Download