Monday, November 19th, 2018
Steering Group First Meeting
South Gippsland Water received a great response from the community and stakeholders to assist in determining the future of the reservoirs that currently supply water to Korrumburra, Poowong, Loch and Nyora.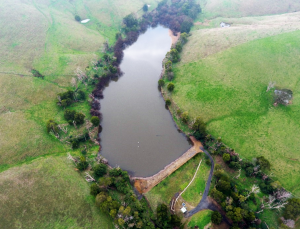 The first meeting was held last Friday where many possibilities, for the reservoirs, associated catchment areas and water allocation were explored. South Gippsland Water Managing Director Philippe du Plessis commented, "As a final and important stage of the Lance Creek Water Connection, the future of the reservoirs is best completed within a partnership with regulators and community.
It is important that community expectations are understood as a first step in this collaborative process".
Four existing reservoirs which will no longer be needed for drinking water purposes are located across the region and vary in accessibility and size;
Belleview Creek Reservoir, located within a rural district and 359 mega litres
Coalition Creek Reservoir, adjacent to the Korumburra Golf Club and 143 mega litres
Ness Gully Reservoir, located within a rural district and 73.5 mega litres
Little Bass Reservoir supplies Poowng, Loch and Noyra, is adjacent to Soldiers Road, Poowong and 226 mega litres.
The themes identified during the workshop included, a range of recreational uses such as fishing, water sports and walking tracks amongst the surrounding lands. Environmental benefits for river health, bio diversity and as a base for alternate power generation were also noted. Economic and regional benefits such as industry, agriculture & fire use.
Members of the wider community who wish to be included in the process are welcome to continue to submit ideas and comments via the Corporation's web site www.sgwater.com.au/rethinking-reservoirs to the 30th November 2018.
Information on dam safety requirements and associated costs to upgrade the existing infrastructure were also provided to the group. Safety is a major component of dam management and currently managed under the Australian National Committee on Large Dams (ANCOLD) guidelines. Future safety management will be dependent on the water level the reservoirs will operate at in future years.
Workshop facilitator Ros Griggs noted that it would be a reasonable assumption that the reservoirs will not operate at their current water level in the years to come. South Gippsland Water will bring back to the second meeting a summary of the identified options for future use, and further information on the process and costs associated with a range of water levels at each location.
Mr du Plessis concluded, "The evaluation process will aim to achieve a balance between community preference, regulatory requirements and cost. A final recommendation will be presented by the Group to the South Gippsland Water Board of Directors for consideration".
The Corporation are committed to keeping all interested persons up to date, it is envisaged the process will run to June 2019. Thank you to groups and individuals who have participated to date. Further ideas and comments can continue to be submitted via the Corporation web site www.sgwater.com.au.