South Gippsland Water Celebrates
Friday, March 4th, 2022
To celebrate International Women's Day, South Gippsland Water thanks and celebrates all the incredible women across our organization, past and present, who have played such an integral role in shaping our corporation to what it is today.
Clare Gibson, has recently been appointed as Manager of Operations, previously being our Manager of Maintenance and Service Delivery. Coming from a Civil Engineering background, Clare wears an array of hats to effectively manage multiple teams, juggle the day-to-day and ensure that our services don't get compromised.
Clare is essential in navigating a pathway for our operations teams to work together holistically and collaboratively, so that we are able to deliver ongoing, proactive and reactive maintenance of South Gippsland Water's water and wastewater assets.
She is passionate about fostering a culture that enables our team to be energised and know they are making a difference to our customers and community.
She works across the business to improve the services that we deliver. These span from planning for and maintaining our network assets, pump stations and the electrical and mechanical components at our treatment plants. Taking the time to understand what certain pain points are, Clare helps her team remove obstacles and create strategic initiatives to deliver efficiencies, reduce risks and keep our people safe.
Wishing our community, and everyone who identifies as a women – a Happy International Women's Day!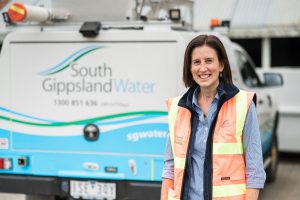 Download