Sunshine, Hot Weather and Algae are Perfect Companions
Monday, January 21st, 2019
Over recent weeks summer conditions have led to water quality being impacted at Foster with algae present in the untreated water storage basin at Foster Water Treatment Plant. This has lead to taste and odour being impacted for Foster. Water is safe to drink and South Gippsland Water has taken measures to by-pass the storage basin and draw water directly from Foster Dam instead.
South Gippsland Water operates 8 separate water supply systems. Unlike water supplied to Melbourne, local water is sourced from open catchments, meaning that water is sourced from the region where we live and work. The catchment is impacted by industry, homes, farms and roads which contribute to the quality of the water in our rivers and ultimately reservoirs and at our customers tap.
Algae thrives in hot, sunny conditions and when water bodies have high levels of nutrients. The algae found in the storage basin at Foster is being treated and measures taken to by-pass this water. However it is expected that the taste and smell from the algae will be present for another week or so.
There are many varieties of algae and any algae bloom that occurs within a water supply system is managed to ensure water supplied to customers is safe to drink.
Human senses are very sensitive to the taste and smell that algae produce. Algae can give off a musty and muddy taste and odour. When algae are present in reservoirs, South Gippsland Water activates increased monitoring and treatment processes to remove it, however, due to human sensitivity (some algae can be tasted in parts per trillion, i.e. think of filling the MCG with water and then adding half a teaspoon of these compounds – that is how sensitive we are! It is therefore quite challenging to manage.
Managing Director South Gippsland Water, Philippe du Plessis, said today, "Customers should rest assured South Gippsland Water will continue to monitor storages and treatment processes and constantly adapting them to changing conditions and the changed taste in water. The taste and smell of the water is expected to fluctuate over the next week as this occurrence is managed".
Any customers with queries or concerns regarding their water supply, please contact our friendly customer service team available 24 hours, 7 days a week, on 1300 851 636.
Pictured: The storage basin at Foster Water Treatment Plant.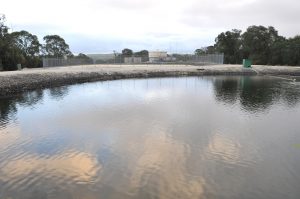 Download