Yarram Water Main Replacement – Progress Update
Monday, November 30th, 2015
South Gippsland Water has been replacing approximately 630m of old water main along the west side of Commercial Road, Yarram . Works have progressed well and to date, most sections of pipe for the new water main have been laid.
Due to unsuitable ground conditions, a small section of pipe in front of the Yarram Bakery which had been programmed to be installed via boring machine will now be installed via open trench. This is scheduled to be completed by 4/12/15.
As of early December, the contractor will finish this first stage of works and depart the site, in order to avoid disruptions to traders over the Christmas-new year period. The contractor will return to site in early January 2016 to connect the new water main to the system and complete all individual service connections along Commercial Road.
Pictured is project supervisor, Dean de Menech with an old horseshoe found during a section of excavation.  You never know what you'll find when digging up old pipes!
Customers with any questions or queries regarding these works, please do not hesitate to contact Project Supervisor Dean De Menech or the Customer Service Team on 1300 851 636.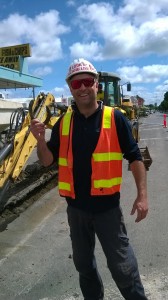 Download