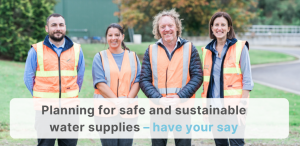 We want to continue to deliver quality, sustainable water and wastewater services, at a fair and reasonable cost to our customers.
That's why, we're calling for your thoughts and ideas to help plan South Gippsland's water supplies for the next 50 years.
The Urban Water Strategy is a 50-year plan that guides our decision-making as your water and wastewater services provider.
It is revisited every five years in response to the constantly changing outlook in supply and demand for water supplies. It influences how we provide your water and wastewater services. The Urban Water Strategy will also include analysis and planning for wastewater systems.
Have your say
We'd like to include you in our conversations throughout this time. You'll have opportunities to comment on and influence our planning decisions as options are developed.
We would like to thank everyone who spared the time to provide us with their feedback, thoughts and ideas through our 'have your say' survey.
To read the last Urban Water Strategy for background, click here.
We're also creating a Community Advisory Committee to help represent the interests of customers and communities across our region and guide our services.
Join us in securing South Gippsland's future
We're calling for Expressions of Interest for this Committee. We're hoping to have representatives of each of our towns across South Gippsland and the Bass Coast, to help us understand the services you want, at a fair and reasonable cost.
We're asking people who are interested, to join us in making a strong commitment to our region's future, with successful applicants appointed for a term of three years. The committee will meet four times a year.
If you, or somebody you know, is interested in applying, you are asked to submit a letter outlining your interest in water and wastewater services.
You can refer to the Committee's Terms of Reference available below.
If you have any questions, or would like more information, you can ring our Communications and Engagement Team Leader Miranda Schooneveldt on 0429 218 303.
To apply email your letter of application to media@sgwater.com.au
Please note applications have now closed.
South Gippsland Water Community Advisory Committee Terms of Reference